DRUMS OF WAR
"Shadowboxing" Debut EP
MELBOURNE, AUSTRALIA
Did Australia just get its own hit version of Pentatonix and add to the modern pop a cappella catalogue? No, but that's a good thing.
If anything, the fresh, young, all-vocal hip-hop group from Melbourne, Australia—DRUMS OF WAR—represents something completely new to the a cappella scene, and trust me, it's a breath of fresh air.
Sure, the format of an a cappella lead vocalist singing over tight harmonies of vocal "mms" and "ahs," to popular covers is nothing new, but AUSACA 2015 Australian A Cappella Champions Drums of War bring their edgy and unique approach to the a cappella genre with a dash of not-afraid-to-have-an-explicit-warning-label on their newly released debut EP, "Shadowboxing"
"Shadowboxing," is a five-track box of goodness if you enjoy anthem hip-hop, great arrangements, and six young singers collaborating to emulate what is clearly their revered genre of music that graced most of our Discmans, boom boxes and rattling car stereos back in the day—Hip Hop and R&B.
Arrangements, song selection and overall energy of the album are some of its best features and instantly makes for a great repeat listening experience. Plus it doesn't hurt that the album's quality is top notch as it was mixed by the incredible, Grammy winning audio engineering mastermind, Bill Hare, and mastered by a cappella wiz Dave Sperandio from Vocal Mastering.
Add to it a catchy original song ("Shadowboxing"), the talents of a superb vocal percussionist and beatboxer (Jake Colman), smooth and effortless bass vocalist (Tom Attard), fast spittin' rapper (Michael Honey), the exceptional range of vocal singers (Adriana Santoro; Jordy McMillan; Matt Heard) and you have a recipe for a well-rounded and complete a cappella sound of high production value.
The first track, "Wild Wild Wish" is a great, high-energy starter that piqued my interest with a mash-up of Will Smith and Dru Hill's hit song "Wild Wild West" and one of my all-time favourites, "I Wish" by Stevie Wonder. The sound is big and fills the complete audio spectrum. It's a good jam and one sonically similar to "Wild Wild West". Drums of War does a great job of passing off solos and keeping things interesting by demanding a lot of themselves and switching from background vocals to soloist in a blink: Something they do really well in their arrangements.
Track two, "Shadowboxing" is the album title track and Drums of War's foray into the original a cappella sphere. It is dark, heavy and the hint of distortion across the bassline is a great touch to bring out its edginess.  "Shadowboxing" is also a perfect vehicle to show off the talents of the quick-tongued and dripping with swag rapper Michael Honey. This is by far one of his quickest raps in the album and it is an earful of delight.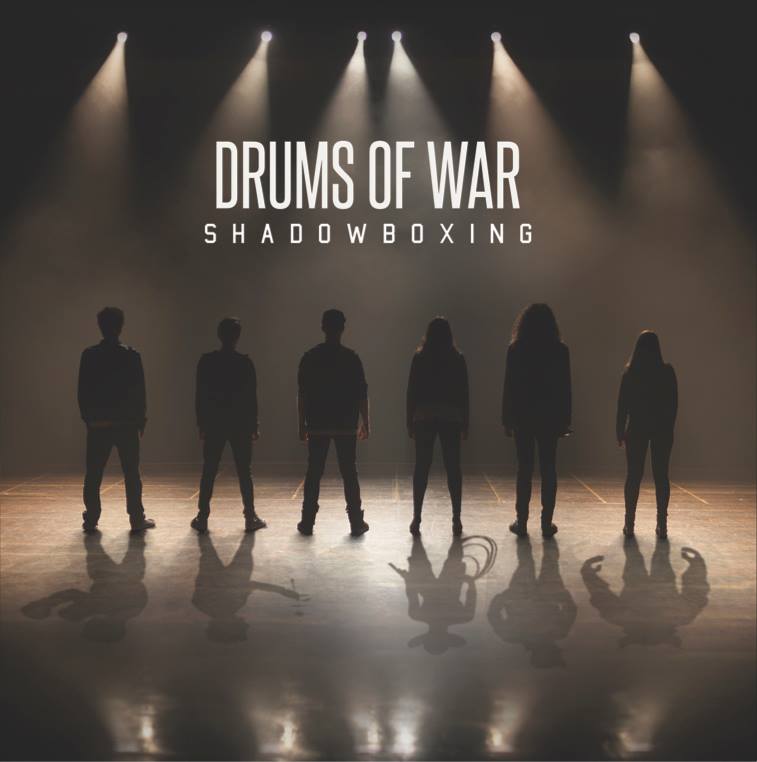 I must admit that I was caught completely off guard by the third track as the intro breaks completely from Drums of War's signature sound and oozes of Pentotonix-esk tight chords and pop-y ballad intro. Luckily, the farce is quickly revealed and it is quite clear they are "taking the piss" as an effect laden, synthesizer recreation put it all back into perspective. "Like I Love You" (O.P.B. Justin Timberlake) features some amazing vocal talents from soloist Matt Heard as he get's intimate with the mic. Sultry is also something you rarely hear from an a cappella group, but Adriana Santoro achieves this palpable feeling alongside Michael Honey as the breakdown comes at the bridge.
Jordy McMillan makes her vocal debut on the phenomenally arranged fourth track "The Monster" (O.P.B. Eminem, Rihanna). Jordy's vocal talents really add to this piece providing a solid chorus melody and smacks of vocal "oohs" that are a signature sound of the original performance. I've never been a fan of Rihanna's music, but the well thought out, not overly complicated arrangement sits really well with me. It grooves with the crisp and well-balanced vocal percussion and has a lot of space in the mix.
The fifth and final track to grace Drums of War's new album, while not the showcase of their true talent, definitely reveals their identity. The truly niche attitude and style that IS Drums of War comes out in full colours in a satisfying, early '00 era Outcast medley ("So Fresh, So Clean" / "B.O.B." / "Roses" / "Ms. Jackson" / "Hey Ya"). I know you'd like to think / Your shit don't stank . . . Roses really smell like / Boo-boo-oo is absolutely the best part of this song as Tom Attard gets to finally come out from the bass duties and hit us with some gold!
Although the album is far from perfect (hesitancy in some of the solo lines and a lack of dynamic phrasing) the album is a solid first release for a younger group of artists who have only been singing together since 2015.
It's been said of another group—which I may have mentioned a few times—that they often struggle with and are "still searching for their identity." I can tell you that even though Drums of War has a way to go and lots of hard work ahead of them, it can easily be said that Drums of War KNOW their sound, KNOW who they are, and that is what makes them so great. Something not often found in a group this young!
Learn more about Drums of War
Follow Drums of War: Website | Facebook | Youtube | Instagram | Twitter
Listen to Drums of War's "Shadowboxing" EP: iTunes | Amazon | Spotify
Drums of War EP Launch – Saturday 6 May, 9pm, Ding Dong Lounge, Melbourne: Tickets
---
REVIEWER: Matthew Tuey
Matthew Tuey is a sensational bass vocalist. His extremely low voice will warm your heart and shake your soul. Being professionally trained and active in the U.S. a cappella music industry, he's performed in over 36 countries and delighted thousands of audience members around the world and now calls Sydney home.
Matthew has performed with top recording a cappella groups; Home Free Vocal Band (winners of NBC's The Sing Off, 2014) and The Vocal Union (one of Nashville's top southern a cappella groups). Matthew is also a talented musical arranger, recording engineer and sound engineer for Vocal Australia.