LOS ANGELES A CAPPELLA FESTIVAL
22-24 January, 2016
#LAAF2016
It was a whirlwind of a weekend. I can barely remember anyone's names, how to make all the crazy percussion sounds I was making on Saturday morning, or the thousand killer tips from Rob Dietz's arranging workshop, but I can say with complete confidence that I won't forget the incredible time I had at Los Angeles A Cappella Festival, 2016. #LAAF2016 was a wonderland where everyone was singing and harmonising, everyone was your friend, and a cappella royalty were hanging out everywhere you looked.
For the uninitiated, Los Angeles A Cappella Festival was a weekend-long vocal festival held January 22-24 at Santa Monica High School. LAAF brings together some of the biggest and best names in a cappella for educational classes, networking, and performances. This year's festival was presented by the Contemporary A Cappella Society of America (CASA) and was hosted by Los Angeles a cappella group Premiere.
Festivals like this bring out an usual beast in me, and talking to others, I was definitely not alone with this. I was inspired, motivated and awed by the wondrous sounds produced by the human instrument and simultaneously murderously envious of the super-human feats of musical prowess. It was a very confusing time. The balance tipped towards the former (thankfully) and I had an amazing weekend meeting people, sharing ideas, and experiencing live music.
My first event was the Scholastic Competition on Friday night. The electricity in the air was crazy. By the end of the night I was up on my feet dancing to Fourty4B with my friends. Six groups competed: Acasola – Cal State University Northridge; Naked Voices – UC Santa Barbara; ScatterTones – UCLA; Signature A Cappella – UCLA; SoundWave – San Diego State; and Unstrumental – Calabasas High School. The competition was broken up into three rounds: 'Shock and Awe', 'Stand and Deliver', and the 'Final Showdown'. Audiences helped the judges choose the four groups that would advance to round two, 'Stand and Deliver', by texting in to the aca-hotline. 'Stand and Deliver' was a great opportunity to really hear the group's vocal chops and in the 'Final Showdown' the final 2 groups got one song to win over the judges. It was such an exciting night! Coming out on top were underdogs Acasola from Cal State who were competing at LAAF for the first time.
Saying Saturday was huge is an understatement. It was impossible to see everything I wanted to see, but I tried my best to be in three workshops at once. Some of the highlights for me included Nic Parson's Beginning VP; Creating Original Vocal Music with ARORA; sitting in on Private Masterclasses with Rob Dietz; and Stage Presence with Sam Creighton.
Beginning the day with Nic Parson was a great way to warm up my brain and my vocal chords. Starbucks in hand, I arrived to a room jam packed of people spitting enthusiastically and contorting their faces in ways I previously didn't know were possible. Nic quickly took the workshop to the next level by introducing the idea of plosives to the class with the phrase "plosives are important for fighting the patriarchy" – I was converted. Nic, like most other presenters at #LAAF2016, was so helpful and open. He gave his contact details, took any and all questions, and make everyone feel like they could be the next Kevin Olusola.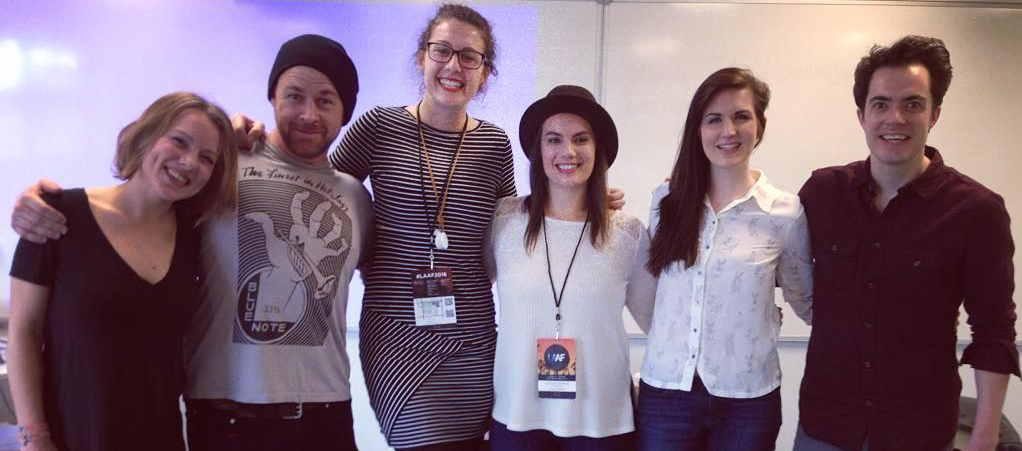 ARORA WITH ALEX SIEGERS
The Original Music workshop with ARORA was just a taste of what was to come in their performance that night in the professional showcase. Between the five members they were able to nurture attendee's egos and coax out the most exposing questions – people were asking specific questions and revealing thoughts about their deepest anxieties in their song writing. It was a really beautiful session to be a part of. Walking out of the session you could feel the enthusiasm in the air, as 30 budding composers went out into the world, ready to make beautiful music and feeling confident putting it out there.
Over the lunch break Rob Dietz was kind enough to let me sit in and watch him work with Tritones from UCSD in their private masterclass. He worked on all aspects of their sound – balance, groove, dynamics, tone; it was a comprehensive overhaul. Working on all the details and minutiae culminated in Dietz turning off the lights and having each of the Tritone's members stand back to back in pairs and sing. Their sense of touch and sound were turned up to eleven and being there to hear all their hard work blossom was so special.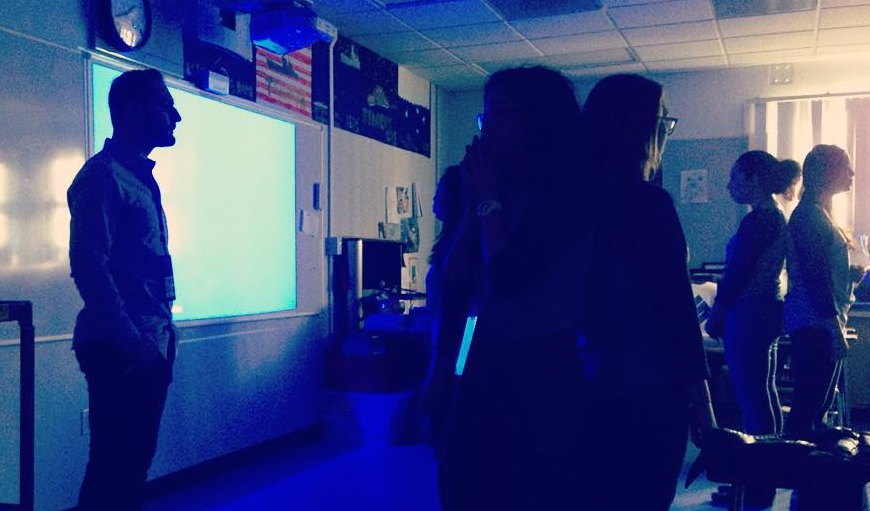 ROB DIETZ MASTERCLASS WITH TRITONES
My last top pick from Saturday was Sam Creighton's Stage Presence workshop. After appearing on Sing It On with The Nor'easters, Creighton has reached peak aca-celeb status. Her class was absolutely packed, standing room only, pouring out into the hallway. It was so exciting to see Sam in her element after meeting her 9 months ago in Sydney. Much like ARORA's workshop earlier in the day, Creighton dove deep into the psychology of performance and described the hurdles she over came, and others she is still working to overcome. It was here in Creighton's class that I established a name for myself at #LAAF2016. To consolidate all that had been discussed in the workshop, volunteers were invited to come up the front and lip sync a solo performance. This was one of the rare occasions when being friends with aca-royalty didn't work out to my advantage. I was called up to the front to help get the ball rolling, along with a couple of others. The music began playing and, prop microphones in hand, we all began dancing our little hearts out. Desperate to win the crowd over, I finished the chorus with a perfectly executed power slide across the front of our mock-stage. And that is how I became part of LAAF history, doing Australia proud. In all seriousness though, you could really see the anxieties and awkwardness melt away, especially for the younger participants at the workshop, as Creighton worked her magic. I can't wait to see her perform live again!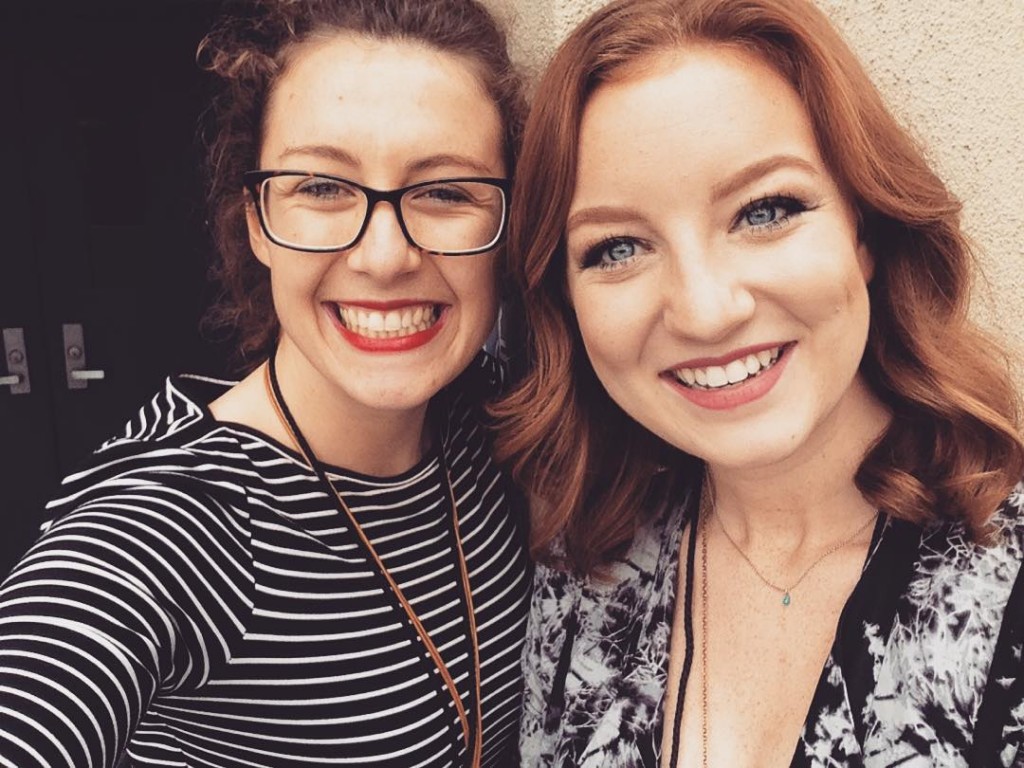 SAM CREIGHTON WITH ALEX SIEGERS
Saturday wrapped up with the professional showcase, featuring a stellar line up of: Acasola (2016 Scholastic competition winners), Level and ARORA, with Dakaboom playing MC. This was the defining moment of LAAF2016 for me. I was in sonic ecstasy for the whole 2 hours and I came out, not only wanting to be a better musician, but feeling more connected to the musical spirit that already existed within me. Level are the power group of the West Coast. Allie Feder, Rachel Saltzman, Mario Jose, Sam Fischer, Ben Bram, Dan Weidlein and Rob Dietz combined to bring perfectly executed arrangements, sublime harmonies, and vocal gymnastics that make you melt into your seat. My Australian pride was at it's peak with fellow Aussie Sam Fischer on stage. He was standing in for Level's usual tenor Kenton Chen who was snowed in under the biggest blizzard Washington has seen in decades. You definitely wouldn't have guessed he was only asked to do the gig 16 hours before, singing every note from memory with confidence and Chris Hemsworth-esque charm.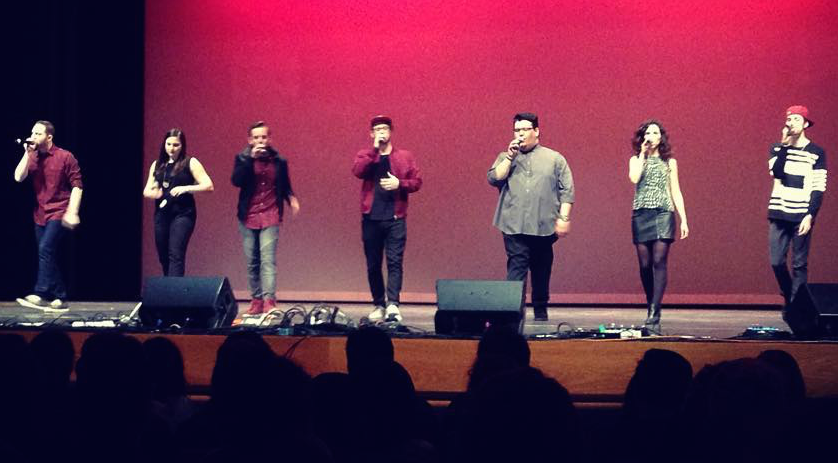 LEVEL AT LAAF2016
After intermission, ARORA took to the stage and it wasn't long before the audience was a blubbering mess as Rachel Bearer, Jessica Rae Freedman, Christopher Given Harrison, Katharine Hoye, and Ben McLain tugged at our heart strings with their original compositions and edgy arrangements. If you haven't heard any of their stuff, go Youtube it now. ARORA were previously called Sonos, but after the rise of the audio hardware company of the same name they were forced to change their name, so there are even more music treats on earlier albums under that name. Dakaboom were the perfect counterbalance to the poppy riffs of Level and poignant mastery of ARORA. They are the ultimate marriage of a cappella genius, comedy and wit. Think The Umbilical Brothers meets Straight No Chaser, with a sprinkling of The Muppets! My organs hurt by the end of each of their vignettes from laughing and my eyes opened wider with each musical feat.
Sunday morning wrapped up the weekend with some more workshops riding on the back of Saturday night's adrenaline rush. I began with Danny Olefsky's Video Crash Course which gave me some really helpful insider tips on how to best record on a budget, and the smartest ways to spend your money when hiring professionals to record and film for you and your group. Like many of the other presenters, Olefsky was so helpful and gave out his contact details so that keen singers and musical directors could ask him questions and get in contact in the future. I finished up the weekend with Bri Holland and Ted Trembinski. These LA producers gave us a taste of what it is like to record contemporary a cappella in the studio, and all the tips and tricks out there to help groups sound their absolute best. Trembinski relished the opportunity to blow our young minds showing us the tricks of the newly released Melodine 4 software as he took live vocal samples and manipulated them into something totally different in front of our eyes. We left the workshop  disillusioned, wiser and desperate to get into the studio, preferably one with Ted and Bri behind the desk.
These are just a few highlights from my jam packed weekend at LAAF2016. My Snapchat story was embarrassingly long as I vainly tried to capture every moment for all those people who were playing along at home. Thank you to all the people who made it incredible and I can't wait to meet everyone again at my next American a cappella event.
Follow LAAF: Website | Facebook | Twitter | Instagram
Check out Vocal Australia's photos and videos from LAAF at:
Facebook Photos | Facebook Videos | Twitter | Instagram | Snapchat: @vocalaustralia
Reviewer: Alex Siegers
Alex Siegers has amassed considerable experience as both chorister and soloist across jazz, sacred, classical and pop genres with leading ensembles throughout Australia. She is currently completing a Bachelor of Music and Arts in Jazz Voice and Linguistics at the Sydney Conservatorium of Music and is on exchange for a semester at University of California – Santa Barbara.
In 2004 Alex joined Gondwana Voices, with whom she has toured domestically and internationally to Canada, England, Wales, and France several times over the next eleven years. Since relocating to Sydney in 2012, Alex has been a member of Sydney Chamber Choir, Sydney Philharmonic Choirs, and Sydney Conservatorium Chamber Choir. In 2014 Alex toured to Singapore with the Choir of St. James King Street to perform in the international sacred music festival, Tapestry. In 2011, while living in London, Alex sang regularly with the Choir of Southwark Cathedral. That year she was awarded a scholarship to study with Dame Emma Kirkby at the Dartington International Summer School, where she also sung with madrigal group Arcangelo.
Alex has appeared as a guest artist with Cantillation, The Consort of Melbourne, the Choir of St. Mary's Cathedral and Vocal Australia Singers. She has also performed and recorded with various groups including the Bobby Fox, Liz Hughes Band, The Gold Project and her own jazz quartet, the Alex Siegers Quartet. In 2012 she founded her own acapella ensemble The Sexy Pitches who were finalists in Vocal Australia's 2014 AUSACA NSW State Final.