PENTATONIX (USA)
Atheneum Theatre
Melbourne
Australia
8pm
Saturday 23 August, 2014
Never have I experienced, nor do I think I will again, the sheer, unending excitement within a crowd than at Pentatonix's first ever Australian show at the Athenaeum Theatre in Melbourne last night.
In one word: flawless!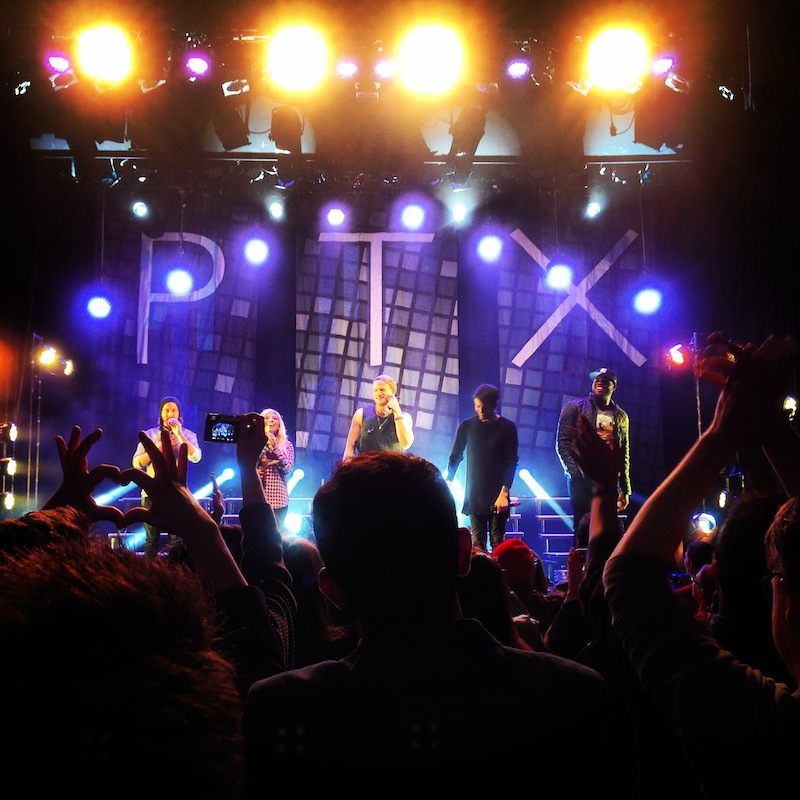 (Picture by Amelia Alder)
Not many artists can claim that they perform nigh completely perfectly with their top of the charts albums, but Pentatonix can definitely make that claim. This is an amazing testament to their vocal abilities.
Now some may ask – "If they're so close to sounding like their album, why go see them?" – the answer is the show itself. Many of their well known songs began with little vamp sections that almost seemed improvised – each singer adding a little line or vocal lick and then before you know it Pentatonix have launched into their famous covers of Lorde's 'Royals' or The Buggles' 'Video Killed The Radio Star'. Add in some choreography and each song becomes both a visual and an aural delight. Not to mention the banter between songs – from Mitch Grassi's sass to Avi Kaplan's bass talking (that honestly was sometimes easier to understand through bone induction than through my ears), each member of Pentatonix interacts with the crowd like they would with old friends.
I suppose that is the best feeling at a Pentatonix show – you feel like you are part of this close group of friends, sharing a cappella music together.
That's actually the first time I've mentioned that this was a cappella. You'd not be remiss to say that you'd never be able to tell – even when, in Pentatonix's pounding original 'Natural Disaster', the entire audience sang lines in perfect unison. I must say, I was happily surprised at the intonation of the crowd last night – I feel we could even go on tour with the group as backing singers for 'Natural Disaster'.
At the end of the show, the calls for encore were so loud that the group did a double encore – bringing back 'Thrift Shop' and 'We Are Young' – all belted to a crowd on their feet in a seating only venue. That is true acapower.
| | |
| --- | --- |
| Musicianship: | |
| Entertainment Value: | |
| Production Elements: | |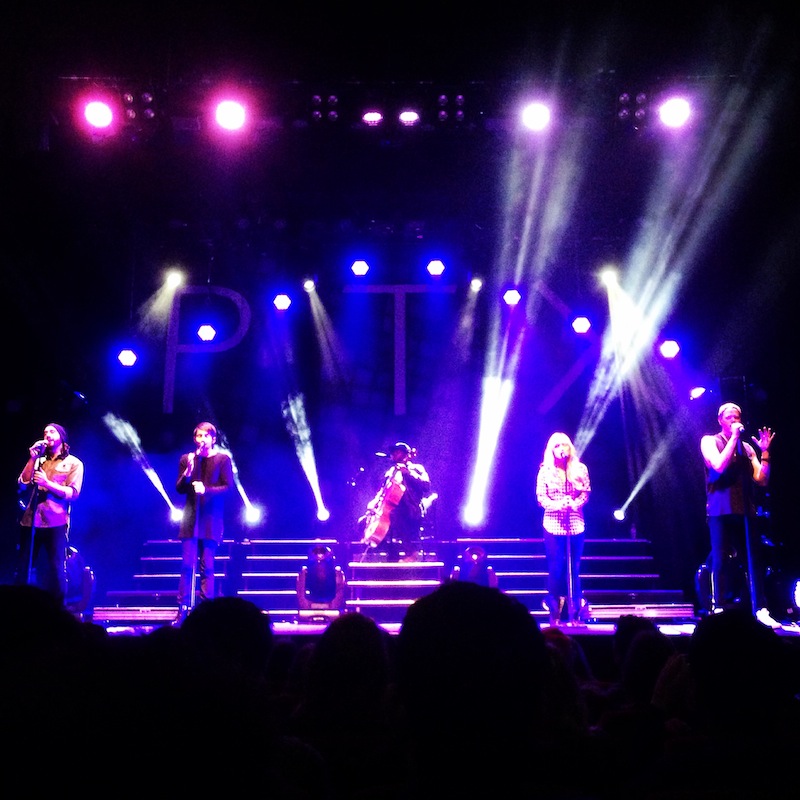 (Picture by Amelia Alder)
Extras: For those lucky enough to secure VIP tickets, before the show we were treated to seeing part of Pentatonix's sound check, had a quick Q&A with them, followed by photos with the group and signings, as well as getting some VIP only merchandise. Being a bass singer in my own a cappella group, meeting my hero Avi was possibly the greatest moment of my young life so far. As a young student who works as a theatre technician, my final props go to the audio and lighting techs – they put on a hell of a spectacle, whilst keeping the volume perfect (even in the 5th row where I was lucky enough to be seated).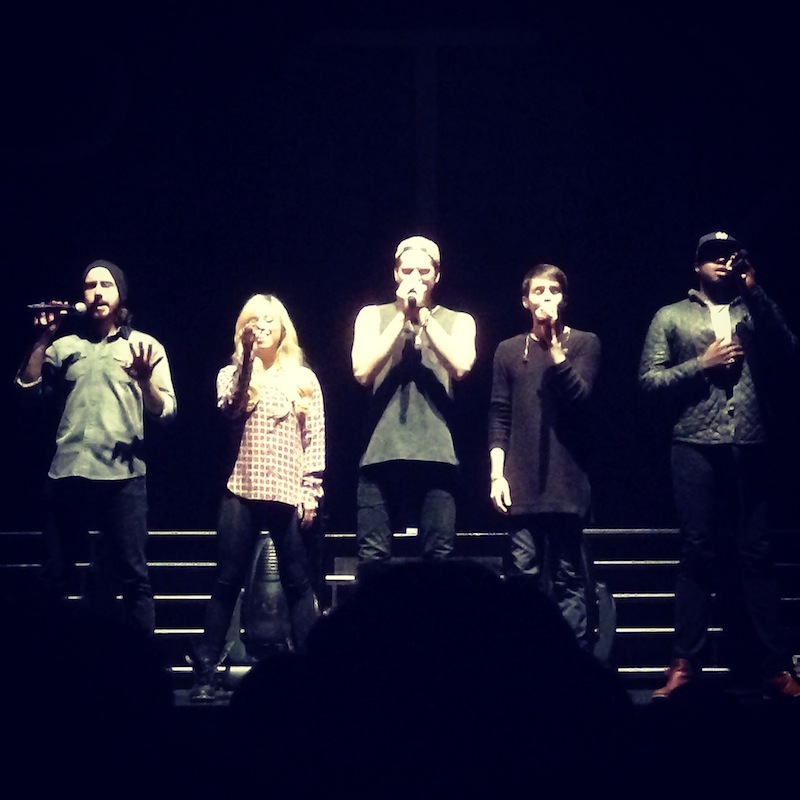 (Picture by Amelia Alder)
| | |
| --- | --- |
| Overall Impression: | |
Reviewer: Michael Honey
Learning the piano from the age of 6 and teaching himself guitar, Michael only discovered his love for singing and a cappella when his voice broke at the ripe old age of twelve. In the years after, Michael has sung with Victorian Opera, the Victorian Honour Choir, CHIME and youth ensemble Bacchanae, as well as forming a cappella group Verendum with his high school friends. Michael has dabbled in musical theatre, doing high school productions of Grease, Little Shop of Horrors and Les Miserables, but is finding his true calling in hip-hop music – taking command of the stage through rap features in a cappella arrangements. After teaching himself how to beatbox, Michael's passion for vocal music took off in 2012, coinciding with forming pop a cappella group, Switch.
Check out our photo album on Facebook featuring pics from each of Pentatonix's Australian performances including pics taken by The Idea of North!
Pentatonix are Mitch Grassi, Scott Hoying, Avi Kaplan, Kirstin Maldonado, Kevin Olusola
Pentatonix: Website | Youtube | Facebook | Twitter | Instagram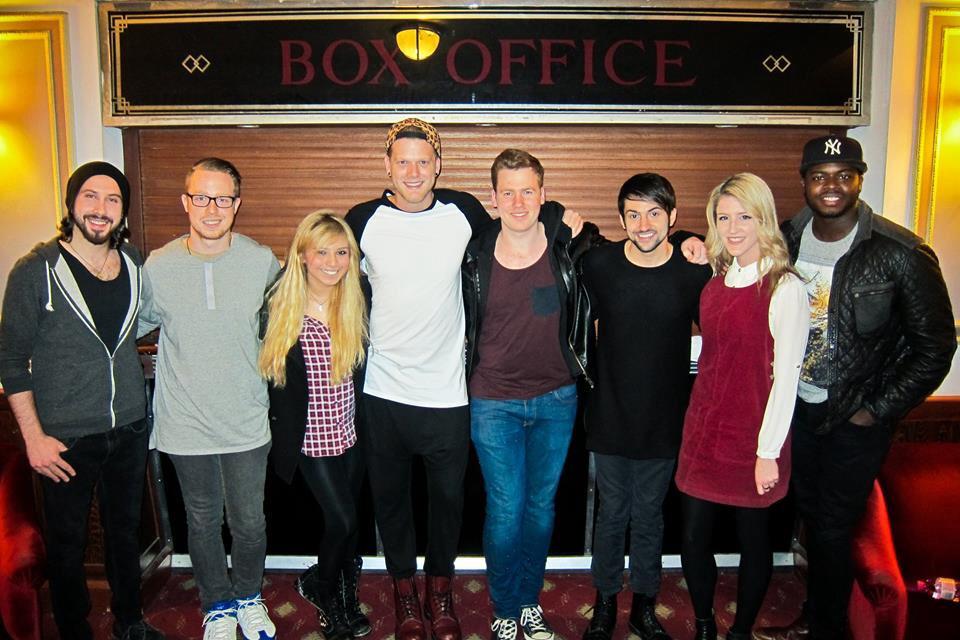 Pentatonix with Switch (AUS-ACA: National A Cappella Championship – National Finalists)