NATURALLY 7 (USA)
MELBOURNE RECITAL CENTRE, MELBOURNE, AUSTRALIA
Saturday 1 June, 14:00
Leonard Bernstein once lauded Beethoven's Ninth Symphony for its direct communication and for being "accessible without being ordinary." Bernstein's words may seem superlative praise for a contemporary a cappella concert, but could just as easily describe the success of Naturally 7's June 1st Melbourne show through that most universal and accessible of instruments—the human voice—that all in attendance would unfalteringly agree was anything but ordinary.
The concert came on the heels of a month-long tour throughout Australia and New Zealand following a string of opening performances for crooning pop/jazz sensation Michael Bublé. Upon entering the Elisabeth Murdoch Hall at the Melbourne Recital Centre, one noticed the group's glowing projected logo: a natural sign (♮) from which an embossed number seven cleverly stands out, a symbol to augur the bending of not only notes but also musical genres in store for the next two hours. From the opening strains of "Keep the Customer Satisfied," divisions between musical styles were already melting: a minor arpeggiation—a figure perhaps more at home on a Baroque harpsichord than the current pop soundscape—gave way to Dwight Stewart and Garfield Buckley's rhythmic guitars, Rod Eldridge's distorted synth, "Hops" Hutton's electric bass, Warren Thomas' beatboxing, and finally Napoleon "Polo" Cummings' smooth lead vocal punctuated by Roger Thomas' rapped verses. This intricately interlocking texture seamlessly flipped in favor of tightly voiced homophony for the chorus only to flip back for each subsequent verse, and by the end of the concert's opening minutes Naturally 7 had amply proven that they were equally at home in a variety of vocal realms.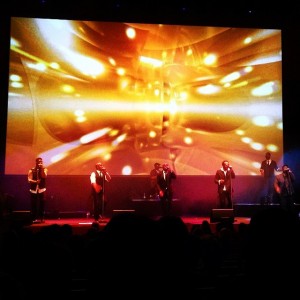 Naturally 7's sound is tight, consistent, and above all, cool. They explicitly label their genre as "vocal play," that is, as front man Roger Thomas puts it, "when you become the instrument." And there is a sense of "play"—in the active conversation between singers during moments such as building a groove or emulating any one of a variety of instruments. Although the group would not be without the unseen finger work of the sound engineer, it's not only about mimicry—each song has its classically pure a cappella moments to show off each singer's golden pipes.
Understated visual elements constituted a powerful component of the concert's success. The stage was split by three raised platforms, the centermost reserved for Warren and his "drum set," the rightmost for Hops and his "bass," and the left used to showcase various backing instruments such as harmonica, trumpet, and vocal turntablism. Simple video loops projected on a large backdrop aided in setting the mood or, in cases like the anthemic "Jericho," showing the lyrics to Roger's fast-paced, reference-dense rap. Take note, collegiate groups: choreography and staging were employed solely in the interest of enhancing the music; even instrumental pantomimes (Dwight's trombone solo was especially memorable) were tastefully minimal while just big enough to make clear what instrument was being "played." Every aspect of Naturally 7's presentation was bursting with intent and panache.
The audience seemed particularly drawn to Hops, who transitioned between acoustic slaps, bowed double bass and synthesized electronics in a feat of idiomatic code-switching to rival the skill of any instrumental bass player. Rod played to the locals by constructing a solo piece with the aid of a looping station that gamely mixed Australian cultural references centered on the profound phrase "It's not where you're from, it's where you've been." At the close of "Say You Love Me," a chilling spiritual ballad, each member gradually exited the stage with all the stateliness of Haydn's "Farewell" Symphony. The second half of the concert opened with Naturally 7 delighting the audience by singing along with an antiquated Stevie Wonder recording and inviting the crowd to take part in lively call-and-response sections.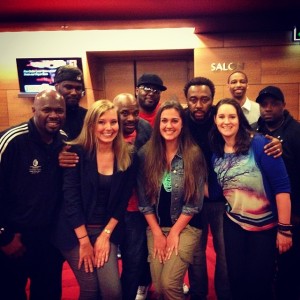 Naturally 7 laid bare their own evolution from jazz-gospel roots (a sound we might readily associate with groups such as Take 6 or Committed) to coming into their own as a vocally driven, instrumentally inspired "wall of sound." Their take on Sting's "Englishman in New York"—in sharp contrast to the Basix version with which a cappella fans may be familiar—paid homage to the group's New York City home as well as the English and Jamaican roots of members Garfield, Roger and Warren. The arrangement jumped from traditional cover into a tongue-in-cheek reggae breakdown before culminating with Jay Z's "Empire State of Mind" in an impressive display of genre blending that eloquently unified starkly disparate songs. Not every song turned into an overt medley of genres, however. Contemporary a cappella repertoire warhorses such as Coldplay's "Fix You" were presented in a straightforward—but nonetheless soul-stirring—manner, diverging only in the transcendent final choruses where gospel influence was undeniably evident. The energetic Motown feel of encore song "Ready or Not" left the audience thrilled and breathless—a fitting conclusion to a concert experience that was at once artistically accessible while spotlighting Naturally 7's extraordinary musicianship and tenacity as performers.
| | |
| --- | --- |
| Musicianship: | |
| Entertainment Value: |   |
| Production Elements: | |
Naturally 7 can be seen on tour with Michael Bublé through the end of August across Canada, New England, and Mexico before departing for their own European tour beginning in September. You can find all scheduled tour dates and performances on the Naturally 7 website at www.naturallyseven.com/events.
| | |
| --- | --- |
| Overall Impression: | |
Reviewer: Kari Francis
An avid composer, arranger, vocalist, and vocal percussionist from Los Angeles, Kari Francis has been actively involved in the a cappella community as a workshop leader and clinician at educational camps such as Camp A Cappella and ReMix Vocal Academy and at festivals such as the Los Angeles A Cappella Festival, SoJam, Mile High Vocal Jam, Boston Sings, SheSings, and Kettering AcaFest since 2009. She graduated from the University of California, San Diego with a B.A. in Music Theory & Composition and during that time sang and competed with the UCSD Tritones, shared the stage with Taylor Swift at the American Country Music Awards, collaborated in concert with Imogen Heap in San Diego as part of her "Earth" project, and in 2011 joined Kinfolk 9 for their run on Season 3 of NBC's "The Sing-Off". Kari founded and performed with the powerhouse all-female vocal band Musae, caroled professionally with the LA-based vocal troupe The Other Reindeer and Rochester-based quartet Park & Hark, and her arrangements are sung by high school and collegiate choirs across the US and Europe. Kari is currently a Vocal Australia intern, which is made possible through the Arts Leadership Program at the Eastman School of Music where she is currently pursuing a Master of Arts in Music Education (Vocal emphasis).
Naturally 7 are Roger Thomas (musical director, arranger, 1st Baritone, Rap), Warren Thomas(percussion, guitar, clarinet, 3rd tenor), Rod Eldridge (1st tenor, scratching, trumpet), Napoleon (Polo) Cummings (4th Tenor, guitar), Dwight Stewart (2nd baritone, vocals, trumpet), Garfield Buckley (2nd Tenor, Harmonica) and "Hops" Hutton (Bass).
Naturally 7 Website | Naturally 7 Youtube | Naturally 7 Facebook | Naturally 7 Twitter