THE MAGNETS: All This Time

West Australian Spiegeltent
Fringe World Festival
Perth,  Australia
Wednesday 5 February 2014, 7pm
Britain's best-travelled a cappella group The Magnets are back in Australia for a fourth time, playing Perth's Fringe World Festival and the Adelaide Fringe on their way to Barbados, of all places. Six sharply dressed and extremely talented poms, the group has toured extensively all around the world, and recently topped off 2013 with rave reviews at the Edinburgh Fringe Festival.
Suade's Chris and Loz Blain caught the opening night show of the Magnets' Australian tour in Perth's own Spiegeltent – and notably, it was the very first Magnets show for fill-in baritone Billy. Here are their thoughts:
CHRIS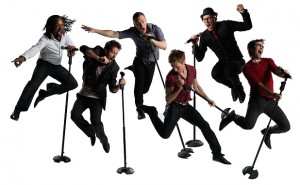 :
What a treat it was tonight to catch the Magnets. Perth really turned on some beautiful weather, and the Fringe World generously contributed some scantily-clad scenery as a backdrop. The boys, as usual were in dazzling form don't you think?
LOZ:
I'm a hard man to please – and everyone likes a hard man to please. Having seen these guys three times now, I'm not gonna say it was my favourite Magnets gig. But even so, they can really rock a house, especially an intimate room like the Schpeegeltent.
CHRIS:
Yep, it's a ripper venue that makes any show you see super intimate. Funny thing was, this felt the least intimate of any Magnets show I've seen. They're all terrific personalities and have a lot to offer a crowd, but tonight felt a bit more rehearsed and rigid. To be fair it's their first show in Australia, they've trained a new singer (Billy), and they'd recently been robbed!
LOZ:
Yeah, somebody got into their gear while they were sound checking and made off with all their cash. Mongrels. I dunno that it felt rigid, just had a little bit less humour and shenanigans than previous shows – and I'm all about the shenanigans. But we're talking like people that have seen these guys a bit – for those who haven't, their strengths are obvious: awesome grooves from beatbox man Andy, fat bass from the mighty Fraser, and an absolutely dazzling array of lead singers that seem to each be able to step up and blow you away in their own unique way.
CHRIS:
Yeah, when you've got bass, VP and leads that strong, it's pretty hard to go wrong. They effortlessly move from genre to genre, song to song as smoothly as a DJ who has pre-recorded their set, and manage to let you stop thinking about the cleverness of their performance and focus on the music. I must admit, I was feeling a bit 'same-samey' about the start of the show, as the mix is very bass/vp heavy. As if they could read my mind, they cleverly switched mics to shared condensers on stands and created an old-school sound that brought me relief!
LOZ:
Oh yeah, and juuuust when I was getting sick of that semi-barbershoppy sound, they did a magic trick, hand mics appeared out of nowhere in an instant and the beat dropped and they were off. What did you think of the arrangements?
CHRIS:
Great. Well-suited to the instruments at hand, varied and full of delightful little surprises. I guess at times you just feel like there's maybe 2 or 3 more singers than what's needed for the sound. I loved their rendition of "Blurred Lines", which demonstrated my point perfectly. Andy (VP), Fraser (Bass) and Steve (Adam Lavigne sound-alike) rocked that tune insanely well with just 3 voices, and it felt like there were some gaps in the wall of sound to bring some contrast and funk things up a bit.
LOZ: That was the song of the night for me! Those are three seriously awesome assets for an a cappella band – Steve is that unicorn-like rarity in the a cappella world: he can genuinely bust out a rock lead. Like Acca Dacca rock, that's how rock he can get. Fraser has the girls in the palm of his hand with his laid back stage character, active eyebrows and powerful bass tones, and Andy… I mean, jeez, short of your specialist guys like Tom Thum, the Aussie aca-scene doesn't really have anyone to compare Andy to. His sounds are amazing, his groove is unstoppable (as with the rest of the guys) and in every show he puts in a wicked beatbox solo that brings the house down. How can you go wrong?
CHRIS:
On that note, Andy's solo was terrific as usual. He manages to add truckloads of engaging stage elements to his 'drum' solo every time, and tonight was no exception. And I love the way the guys transition out of that moment, straight back into a reprise of the previous song. It just shows how much more than an a cappella group these guys are. They don't use the vocals-only tag as an excuse to be mediocre. They're real deal entertainers that produce outstanding SHOWS. This show felt slightly less cheesy than previous ones I've seen – the choreography was appropriate and tight, and it felt more real that some of the Vegas-style big-stage things I've seen them do in the past. I know you're a big choralography fan (chuckle) – how did you handle it?!
LOZ:
I thought it was beaut for the most part – I like things loose and fun (hello ladies) and that's what we got on this first night of the tour. Now, we're rattling on a bit, how about some criticism? I'll start. Some of the backings were a bit messy and a bit pitchy. Could I do it better? No. But I can whinge with the best of them.
CHRIS:
Yeah, but it was mixed / blended so low compared to lead / VP / Bass that it wasn't a huge problem I thought. Moments like the early Sting song didn't gel, but then others like the swing-infused 'Smoke On The Water' tuned / blended perfectly.
LOZ:
Yeah, but those were 1-5-3 chords, any mug can blend those. I think Lukey got one right in a Suade rehearsal once.
CHRIS:
Once. Back to bitching and moaning… there was a bit of 'Garden Savagery' going on in the second last number due to some 'interesting' tuning, but it was quickly recovered without too much trouble (quite a feat when there are six of you freestyling the key).
LOZ:
To be fair, that was in the middle of a really awesome moment – and there seems to be an 'oh my god, how did they do that' moment in every Magnets show I've seen. The first time, it was an A-Z medley of no less than 26 movie songs. Tonight, it was a choose your own adventure Aussie rock medley where members of the audience chose from a list of song options and the lads put the whole shebang together on the fly. I can't imagine the rehearsal that would take, but a bloody impressive feat and part of the reason why you can genuinely call these blokes world class.
CHRIS:
Hear hear. A Cappella can feel so *safe*, and these guys bring an element of the shambolic in to keep you on the edge of your seat.
LOZ:
Shambolic is a bit harsh! Suade has been rightly accused of shambolicism in the past, this was more 'I can't believe you're even attempting that.' There were a few loose ends tonight but in general, considering Billy had a mere 2 weeks of rehearsal to get ready (and my god, what a voice, I realise he's a fill-in for this tour but guys, hang onto this one!), they just rocked it. I mean, how often do you get an audience-wide standing mini mosh pit at an a cappella gig, to the tune of freakin' Highway to Hell, no less?
CHRIS:
Yeah, they had a good amount of local content too it should be noted. A great mix of Aussie songs (8 if you include the medley songs), covers and originals throughout the set. It was well paced, varied, and they came home super-strong in the end. Once again, this was a superb show full stop. The fact that it was a cappella was just a cheeky cherry on top – at no point in the show did it feel like anything was missing. Quite the opposite I thought.
LOZ:
I missed the humour, these guys have been hysterical in the past, but there seems to be less of it in this show. Pity. OK, let's wrap up; your best and worst moments?
CHRIS:
Best? I thought that the 'Smoke On The Water / Moondance' song was my favourite – perfect for their voices, clever arrangement, engaging choreography and a good contrast to a lot of the other rockier songs (shit, am I getting old?). Worst? Probably the Sting song early on (All This Time?). The boys hadn't really jelled together yet, the tuning was suffering, and there wasn't a lot of heart and soul coming across from where I was sitting. A ballad should be super powerful in a set, but this one missed the mark unfortunately. Et tu?
LOZ:
I'm with you on those – but I'll add Highway to Hell and Long Way to the Top, the top and tail of the show, as high points for me. And as a low point I'd say that while the leads are almost universally amazingly sung, I think the rest of the guys can do a bit more to connect with the tunes and sell a story… I didn't really feel emotionally invested in a lot of the sound and movement – that kind of approach is great for cheeky tunes like Blurred Lines but I think The Magnets could kick even more goals if they went for the heart strings a bit more, dug into the meanings of their tunes as a group and emotionally support the leads better.
CHRIS:
Harsh but fair. But look, seriously… I can't think of many vocal groups I'd rather see more than these lads. When it comes down to dissecting excellence, you're going to come across some clashes in taste. I'm pretty certain most of what these guys do is well-considered and decisive, which is more than can be said for the vast majority of groups of this ilk. For me, I'd see it again (probably catch them in Adelaide in a couple of weeks), and highly recommend the show to a cappella fans and the general public alike. Makes me want to be up on stage as it looks like a whole lot of fun what those lads create.
LOZ:
Yes, please note that we're talking about an absolute must-see show for Aussie a cappella fans. The Magnets may not ever crack Real Group levels of fame and fortune in the aca-world, I can't see groups of choir kids clustering around Magnets arrangements after school, but then I can't imagine the Real Group being half as entertaining, let alone throwing down an ACDC tune with such authority. If any Magnets should happen to read this review, please take any criticism with a grain of salt and treat it with the contempt it deserves; after all, you guys are intercontinental a cappella standard bearers, and we did more gigs on cruise ships than in our own city last year! 😛
REVIEWERS: Chris Blain (Suade) and Loz Blain (Suade)
THE MAGNETS
PERTH FRINGE WORLD TICKETS | ADELAIDE FRINGE TICKETS
THE MAGNETS WEBSITE | FACEBOOK | TWITTER | YOUTUBE