SUADE
VocalTronics
Live at Revolt 2013 DVD
MELBOURNE, AUSTRALIA
The first time I was exposed (literally) to Suade it was live at Vocal Australia's GET VOCAL 2012 A Cappella Festival where Suade were giving their world premiere of VocalTronics! With the show closing with them singing in their underpants it was a far cry from the silky-voiced men crooning rock ballads that I envisioned from their album "All Singing, No Dancing"! It is not exactly what you would expect form your typical all-male a cappella group, but their love of pushing the boundaries is one of the reasons why Suade are so successful both in Australia and abroad.
SUADE: VocalTronics – Live at Revolt 2013 DVD has numerous elements that interplay so this review will focus on three main aspects – Vocaltronics (using Ableton Live), Vocals/Arrangements, and Comedy.
Suade (Chris Blain, Loz Blain, Rob Latham and Luke Stevenson) are pretty funny blokes. They have a unique talent for making everything appear low-key and improvised but behind the relaxed vibe everything is planned to perfection. Suade manage to bring humour into every possible aspect of their shows from Loz and Chris talking over the DVD Menu Title to their toilet humour or cheeky gestures throughout the sets. Loz's farting trumpet in 'Mambo No.5' is a favourite! (Boys being boys!)
A lot of a cappella bands usually only have one main lead soloist, with the bass always singing bass and the tenor always sings tenor. This is not the case for Suade. We've already established that they aren't the typical a cappella group and it doesn't just stop at their choice of underwear! Suade are all brilliant soloists in their own right and can interchange almost any vocal part with any other member. This flexibility leads to great versatility and diversity in their song choices and arrangements and keeps the audience entertained throughout an entire set.
An arrangement can really make or break a song and fortunately Suade's arrangements don't disappoint. Their set list is varied from 'Phantom Of The Opera' (a clear highlight with Rob as the Phantom), to recent hits such as 'Moves Like Jagger' (or 'Loose Vagina' as Loz puts it) to old school hits like Lionel Richie's 'All Night Long'. Luke's arrangement of Stevie Wonder's 'Superstitious' shows of his talent of abusing 13th chords while taking the lead. Another highlight.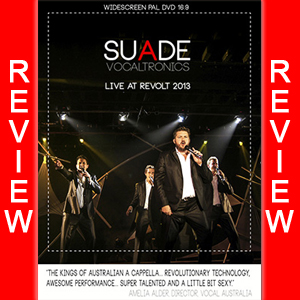 Let's get down to the main focus of the review and namesake of the DVD – VocalTronics. What exactly is it? For those that don't know, VocalTronics is achieved through using a program called Ableton Live – it's a loop-based software music sequencer which makes it possible for Suade to sing any section of a song live, instantly record it and add it back in at any point in the song so it sounds like they're singing up to 40+ parts even though there is only four guys on stage. They can also add effects to sound like guitars, add reverb one beat and distortion the next. Everything you hear is live. Nothing is pre-recorded. It takes hours of programming loops and effects (kudos to Chris) and even more hours rehearsing with it (kudos to everyone else).
In many ways using a program like Abelton Live actually makes things a lot more difficult for a group. If they don't sing their part at the exact right time, with the right rhythm, words or pitch then you're stuck with that error every time that loop is added back into the song. Understanding how many hours of work have gone into this set makes one realize the level of precision that is involved. Suade may give off the illusion that they just turned up to do a show, have a bit of fun and get the crowd laughing (which I'm sure they did), but it's all party at the front and business at the back. It's serious stuff and they've delivered a top-notch performance.
The only critique is that in the DVD they never explained what VocalTronics actually was and how they were building the layers of sounds. It would have been nice if they did a demonstration song to show how they add different sounds into their sequence that would give the audience more of an appreciation of what they're doing. Without an explanation some might think they have something to hide. Some might go as far as saying that if you use loops and effects it's because your vocals are lacking, or you're not good enough so you need to compensate by using fancy tricks to distract the listener. The fact of the matter is that this isn't true of Suade. They don't need to use loops and effects, but it challenges them and adds a new element to their performance. They do include an un-amplified four-part performance of Billy Joel's 'And So It Goes' (sounding like angels), albeit on the Special Features (Check it out). It would have been nice to have a few non-VocalTronics songs scattered throughout the set to settle the nay-sayers and reaffirm to anyone that yes, Suade are quite capable of singing a cappella without any looping or effects.
In conclusion SUADE: VocalTronics – Live at Revolt 2013 DVD has something for everyone (though it may not be appropriate to show your grandmother). If you're thinking about showing it to your high school music class to get them excited about a cappella then don't say we didn't warn you about the frequent coarse language and sexual references. Bonza!
Reviewer: Lia Mack (National Education Co-Ordinator, Vocal Australia)