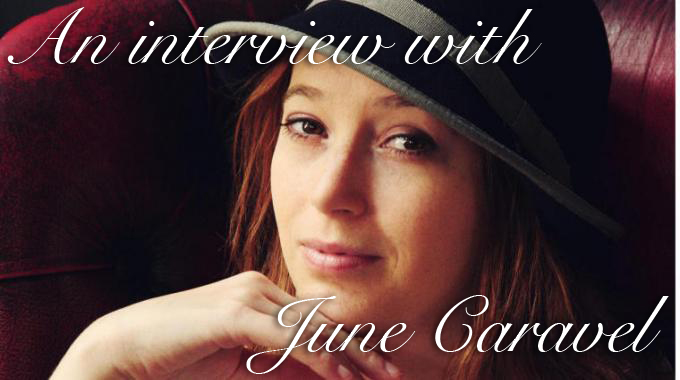 French Soul-Pop A Cappella Singer Songwriter June Caravel (previously known as T-ka) is currently Busking Around Australia with her loop pedal, a camera and a love of a cappella. Vocal Australia's Adelaide representative, Cecilia McCormack, caught up with June during her travels to find out more about her adventures before she heads to Tasmania's Festival of Voices.
CMcC: You used to go by the name of T-ka – what made you decide to change your name to June Caravel?
JC: The name (T-ka) is very silly. I arrived in London from France and then settled there. I had a few gigs and one guy introduced me at an open-mic night as "T-ka", like a chicken. Since chicken masala is the main dish in the UK, it was high time I changed my name.  It sounded good in French, but not in English! It took me a year to find a new name. June is my month of birth and Caravel means "boat" in French and thought it symbolised well with crossing the channel from France to the UK. And now I suppose it symbolises going to Australia as well!

CMcC: So if the change of name had nothing to do with your transition to a cappella music – what did?
JC: I was in a choir when I was 11 and that was my first experience of vocalising. I became the soloist and just loved the harmonies. I then stopped singing completely and just played piano for a year. Then I started composing for piano and vocals and recorded my first album And Maybe A Tree Will Rise Out Of Me and then I composed London Song which came to me a cappella and I already had another song I did a cappella that didn't make it on to the album. So I got this loop pedal (BOSS –RC 30) because I wanted to experiment with it. I then decided why not do a whole album. Before I did the whole album I went to the London A Cappella Festival and joined the Single Singers – the singers that would go on their own to the festival and were recruited into a group. The big  a cappella world wasn't something I was aware of and the experience at the festival really opened my eyes.
CMcC: What's a cappella like in Europe?
JC: In the UK they have a lot of choirs but a cappella is not mainstream or very contemporary.  A cappella in France is so small.  If you wanted to do The Sing Off in France, you couldn't – there's not enough groups! But it would be possible in Germany  – a cappella in Germany it's huge, it's big. That's why all the big a cappella groups go to Germany.
CMcC: You have always had a preference for original songs but a cappella is very dominated by covers. How did you find this?
JC: I found that when I got into the a cappella scene that people were not doing originals and I was disappointed. I mean apart from The Boxettes whom recently performed at the Queens Jubilee concert – I think they'll do a lot for the a cappella scene in the UK. However people always want to hear covers. With covers it's easier because people know them and because I'm treating them a cappella people need to know the songs really well to recognise them.
JUNE CARAVEL
Festival of Voices – Performances on Friday 13 July and Saturday 14 July
Busking in Australia Episode 5 – Adelaide
June Caravel Facebook
Episode 5 – Busking in Australia – Nice Adelaide… by junecaravel